Watch Academy Live Stream Today!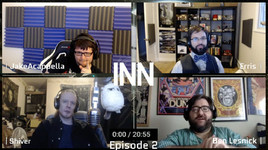 The Imperial News Network will be hosting LOAF today for a special live commentary of Wing Commander Academy! A Star Citizen themed chat will kick off at 11:30 AM Pacific US time (2:30 PM Eastern US, 10:30 PM BST London) on their Twitch channel. The Wing Commander event should begin around 1 PM Pacific (4 PM Eastern US, Midnight BST) and the series takes about four hours to stream in its entirety! If you can't make the live portion, the video should also be archived on Twitch. They'll be talking a lot about Academy trivia and behind-the-scenes information. If you'd like to help uncover even more lost history about the show, you can help contribute to the campaign to save its production materials. Twelve of the thirty boxes have been funded so far!
How rad is this? The two transports following the 'Claw have WC-appropriate names! (Shire & Percheron) Who knows what else we'll learn?