Hopefully that headline catches your attention. At the CIC we're concerned every day with the continued prosperity of Wing Commander and the community. We're always very keen to foster any potential for new games on the computer since that's where it all started. This year's Prophecy Advance was a tremendous bonus for Wing Commander fans, but as great as it was, it also left many wanting more. Today's another day where we see events begin to unfold that could mean profound changes for us in the future.
Without trying to get too wordy and deep into history, PC WC games were going extremely strong through 1998 with the release of Secret Ops. Multiple WC projects were on the table after Prophecy, and SO was merely a bonus to hold over fans until the next iteration of the series. However from 1998 through 2000, a series of changes occurred that resulted in the cancellation, uncancellation and recancellation of different WC games. The resulting chaos ended up with Origin existing solely to run Ultima Online. This began a period of stagnation that had persisted until recently.
The newest Ultima Online addons appear to have been successful, and we reported last week that a new chapter in the Ultima franchise may be in development. GameSpot has shed new light on this. Apparently EA is bringing veteran producer Andy Hollis out of retirement to guide this new endeavor. What's the significance there? Hollis is known as one of the gaming gods of combat flight simulators. He was a big force at Origin in the past creating the Jane's line of military flight sims. And it's a little known fact that one of his last jobs at Origin was supervising the production of a now-cancelled Wing Commander Online after leading the Maverick Team at OSI.
What does this mean today? All information that is publicly available points to him merely working with the Ultima franchise right now. The importance of that statement cannot be understated however. The Ultima series runs extremely parallel to Wing Commander in terms of history and production, and if EA can revive Ultima with a snap of its fingers, Wing Commander is no different. If EA wanted this to happen, Andy Hollis would be one of the people who'd be able to take the reigns and do it. I'm always hesitant to put false hopes out in people's minds, but I am a genuinely optimistic person. This could be a point where Origin becomes really active again. We're doing what we can on our end now. Hopefully in the coming days, weeks and months we'll have more developments to share.
For more information, check out the GameSpot article here.
Andy Hollis, the veteran designer responsible for many MicroProse and Jane's flight sims, is recruited to head EA's Austin studio and oversee the Ultima franchise's next steps. When we recently heard that Andy Hollis had joined EA's Origin studio in Austin, Texas, as chief operating officer and executive producer, we had to wonder if the Austin studio would turn back the clock to the heady days of the Wing Commander series, Privateer, and Strike Commander and do a new combat flight sim.

Asking about the Ultima game that's been rumored to be in development since the appearance of a leaked "Ultima X: Odyssey" title screen image, we received a unison response of "No comment." Hollis reiterated that Origin isn't going to work on anything that competes with Ultima Online. Yet other comments hinted that other teams are working at Origin, in addition to the 15 to 20 people dedicated to Ultima Online.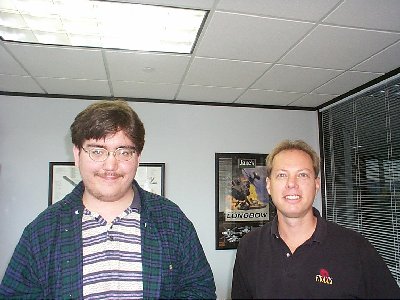 The CIC's LOAF chats with Andy Hollis during a trip to Origin way back in 1998.