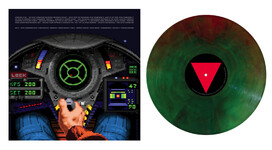 The crowdfunding campaign for the Deluxe vinyl pressing of the WING COMMANDER score is in full swing, and the project has now passed 25% of its goal with more than $3800 pledged so far. To get even more fans to join in on the excitement, if a few more people add to the total this weekend and get us over $5000, LOAF will do a live Wing Commander Movie commentary.
The Wing Commander vinyl record campaign is at 25%! To sweeten the pot in absolutely no way, I'll do a Twitter Space watch-along of the movie if we get to $5k this weekend.
The $75 Deluxe Edition seems to be the most popular so far, but a standard LP is just $35! Learn more about the project here.
Supercade's exclusive new LP editions of the Wing Commander Orchestral Recording Project will mark the first time George Oldziey's orchestral score is available on vinyl. Working with a celebrated independent record press, we'll be sure these records are produced to the very best quality. From mastering, to lacquer cutting, to electroplating, to pressing and printing... I will strive for every detail of the project to be executed to the highest standards of fidelity and design, creating a compelling and collectible final product for backers.

Supercade Press is offering three new editions of the soundtrack:

Deluxe Edition Gatefold with 180g Starfield Splatter Vinyl
Special Edition with 180g Marbled Bi-color Vinyl (new colors may be issued)
Standard Edition with 180g Classic Black Vinyl