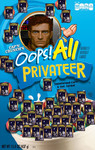 The latest episode of ALL WINGS CONSIDERED is live now! All Wings Considered is the CIC's first ever streaming variety show which features news, conversation and gameplay relating to our favorite series. This week's Nav Points include:
Privateer and conversation! Chat live while we earn an Orion.
Did Colonel Blair really take a vacation to the same beach he found the Concordia at?
Zathras, yes. Zathras.
Your first look at the 3D printed Pewter Planet!
Privateer 2 ship of the week: the Icarus
Missed the stream? The replay will be available below once it has been processed by YouTube. You can subscribe to the AWC channel for future notifications here.