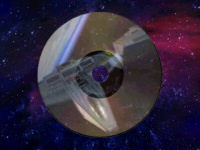 Daniel Walters is a journalist who's been investigating an entrepreneur / con artist named Erick Hansen. Mr. Walters researched a long history of shady dealings and loose ends that brought him to the CIC Forums (where else?). But it wasn't our discussions on Privateer that got his interest - among other things, Hansen claims credit for making Wing Commander 4 on DVD. Wingnuts were able to put the investigator in touch with WC4 producer Mark Day, who has no recollection of Mr. Hansen. It's an interesting story that you can read about in full here. And thanks to the sleuthing Wing Commander fans who helped!
There's another claim Hansen has often repeated: "We created the first DVD-ROM video game, which was Wing Commander, for Electronic Arts and Creative Labs," Hansen says in a video newsletter to shareholders. Wing Commander IV was among the first DVD-ROM video games, but the extent of Hansen's involvement is questionable.

"I have racked my brain regarding Erick Hansen and really have never heard of the guy," says Mark Day, the internal producer for Wing Commander IV for Electronic Arts. He says it's possible that Hansen's company was involved in manufacturing or encoding the discs, but says those were very minor aspects of the process, akin to copying a VHS tape.