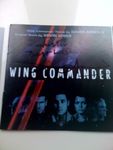 LeHah noticed that David Arnold's "Theme from Stargate" was used to wake up the crew of the shuttle Discovery this morning. NASA has put together this feature to describe how wakeup calls are chosen, along with an 85-page list of calls used to date. Mr. Arnold composed the theme to the Wing Commander Movie soundtrack. You can learn more about and download several compositions from the album here.
@NASA: The shuttle crew was awakened at 1:21aET to the song "Theme from Statgate." http://bit.ly/ZX1IH

Arnold replied via Twitter: i hope it was Stargate and not Theme from 'Statgate" , always wanted to wake up spacemen with it .