Super Soaker Collector / Administrator
Welcome to the Twenties! That feels so very weird to type. As we step into a whole new decade, we'll take one more look back today at all of the wonderful things that happened in the world of Wing Commander in 2019. It was another big year! First up, here's the recap of the news: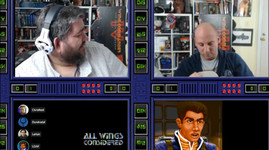 Right off the bat, it was a time of discovery as we learned new things. We finally figured out what the
mystery fighter in Academy
was intended to be and added a
couple
of the show's
scripts
to the archive. A tantalizing bit of
phonetic script
was discovered in the Secret Missions and a fun
easter egg
in SNES SM1. And shockingly, a new Wing Commander game was released in Japan! Wing Commander
Arena
finally debuted
on the Xbox 360 in January after almost 12 years in limbo. In February, LOAF and Dundradal
kicked off the first season
of
All Wings Considered
, the CIC's weekly streaming variety show. The team produced over a hundred hours of content across 34 episodes and will be back soon for the second season! They also penned a new
WC vs History
on the subject of Broadswords, which was a welcome return of the feature.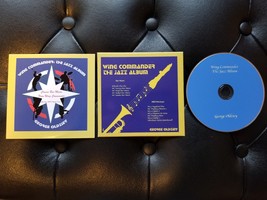 In physical product news, Origin artist Denis Loubet
3D printed
the Pewter Planet and we added some exotic Japanese
SWC 3DO stickers
to the collection. On the musical front, George Oldziey's
WC Jazz Album shipped
and WC music was once
again
performed by a
Swedish orchestra
. Wing Commander footage was also included in a new
music video by GUNSHIP
and even appeared in an advertisement for
Progressive insurance
. The Wing Commander Movie also started to make its way back into
digital distribution
on Redbox, Google Play, Fandango Now and VUDU after the rights transfer from FOX to Chris Roberts.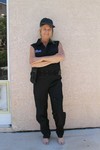 We heard from a lot of major industry professionals who reminisced about Wing Commander. The founder of Raylight Games, Massi Di Monda,
wrote an article
about how integral Prophecy was to the growth of their company. MMO luminary Starr Long mentioned that they haven't forgotten about the series and
keep pinging EA
now and then about access to the Wing Commander license. Ginger Lynn Allen dug up her Prophecy uniform and
posted it for auction
, and the founders of Moby Games talked about WC was the
third game added to the site
. The second
Moongate Origin history book
also successfully crowdfunded with a variety of WC perks.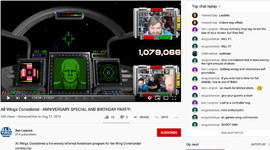 It was a big year for anniversaries. The WC Movie
turned 20
, Armada
turned 25
as did
WC3
. The CIC's own
21st Birthday
was
fully livestreamed
for the first time with much of the CIC Staff in the same place. The
Sony Playstation
also turned 25.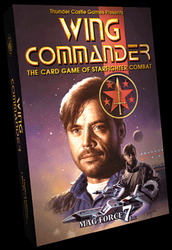 This was a good time for tying up loose ends. LOAF finally
found the source
for all the German Wing Commander novel cover arts, and we found out about a new canceled
WC3 port for the Jaguar
. Similarly, we got word on what's up with the Wing Commander CCG
boxed set
that was never released.
Multiple
CCG artists
also posted samples of their original card artwork. The CIC
Head Museum
got a huge facelift too! Sadly, we lost a few people who were influential to Wing Commander, including
Owen Garriott
and
Sid Mead
just this week.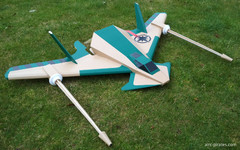 Fan Projects were huge once again. This is just an extremely cursory review, since you could easily write a whole article on a dozen different projects in active operation right now. We'll cover them in slightly more depth soon when we kick off our annual contest. AircPirateNinsei's
actual flying Hornet
was an incredible example of physical WC arts, and
RetroRat's awesome diorama
was super cool too. These were followed by Maverick's nifty
papercraft cruiser
. Mav also put together a playable
tabletop game
, and the folks over at
Gemini Sector
had a lot of fun playing their RPG too.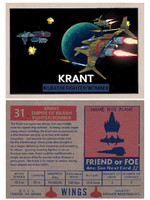 Digital artists were working overtime with
Defiance Industries
pumping out no less than a dozen stellar models. Klavs was back with a
Waterloo
and
Hornet
, plus Dark Sentinel branched out
into Kilrathi
. So many of these awesome Wingnut creators help each other and work interdependently.
Arne's Android Arts
created a wide range of creative sketches that eventually inspired Howard Day's tremendous
Wing Leader
up-rez take on the WC1 engine. We're not sure how he found the time to work on that while pushing
Rebel Galaxy Outlaw
out the door at the same time! Many of Defiance's ships made it into a big Prophecy & Secret Ops
Model Upgrade Pack
release, which was itself bolstered by gr1mre4per's
Prophecy Unlimited
technical coding upgrades.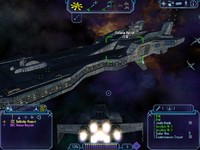 UnnamedCharacter made lots of
technical discoveries
in the WC1 engine, which supported improvements to Goliath's
WC1 Sprite Refresh
. Somehow L.I.F. manages to juggle multiple major project releases. He put out a big update to the
Homeworld mod
while creating and releasing an entire
Freelancer mod
on the side. The WC4 Fan Remake made
great strides
this year, and Centaurianmudpig got his shooter
further off the ground
. KrisV and the gang FINALLY
fixed Prophecy multiplayer
too. The series of original WC
visual novels
by SonataFanatica was also a favorite of mine.
Thank you all for another fantastic year. We can't wait to see what 2020 has in store!
┏━━┓┏━━┓┏━━┓┏━━┓
┗━┓┃┃┏┓┃┗━┓┃┃┏┓┃
┏━┛┃┃┃┃┃┏━┛┃┃┃┃┃
PLAY MORE WING COMMANDER
┃┏━┛┃┃┃┃┃┏━┛┃┃┃┃
┃┗━┓┃┗┛┃┃┗━┓┃┗┛┃
┗━━┛┗━━┛┗━━┛┗━━┛
--
Original update published on January 1, 2020