Category:Wing Commander: Academy
From Wing Commander Encyclopedia
Wing Commander: Academy
Platform
MS-DOS
Engine
Origin FX
Release Date
August 27, 1993
Language
English
Retail Price
$49.95

"$" can not be assigned to a declared number type with value 49.95.
Description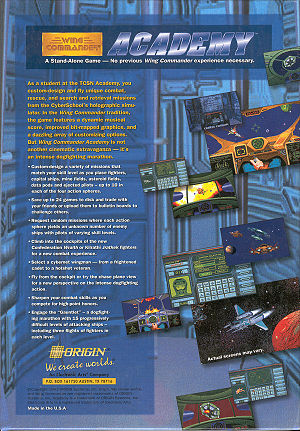 A Stand-Alone Game — No previous Wing Commander experience necessary.


As a student at the TCSN Academy, you custom-design and fly unique combat, rescue, and search and retrieval missions from the CyberSchool's holographic simulator. In the Wing Commander tradition, the game features a dynamic musical score, improved bit-mapped graphics, and a dazzling array of customizing options. But Wing Commander Academy is not another cinematic extravaganza — it's an intense dogfighting marathon.


Custom-design a variety of missions that match your skill level as you place fighters, capital ships, mine fields, asteroid fields, data pods and ejected pilots - up to 10 in each of the four action spheres.
Save up to 24 games to disk and trade with your friends or upload them to bulletin boards to challenge others.
Request random missions where each action sphere yields an unknown number of enemy ships with pilots of varying skill levels.
Climb into the cockpits of the new Confederation Wraith or Kilrathi Jrathek fighters for a new combat experience.
Select a cybernet wingman — from a frightened cadet to a hotshot veteran.
Fly from the cockpit or try the chase plane view for a new perspective on the intense dogfighting action.
Sharpen your combat skills as you compete for high-point honors.
Engage the "Gauntlet" - a dogfighting marathon with 15 progressively difficult levels of attacking ships - including three flights of fighters in each level.


System Requirements
Box Contents
Credits
Advertising
English
Versions
Ports
Strategy Guides
Re-Releases
Screenshots
Development
Patches / Addons
Fan Made
Miscellaneous Files
Music
Manuals and Game Documentation
Controls
Afterburner		Tab
Fire guns		Space
Fire missile		Enter
Accelerate		+
Decelerate		-
Full stop		Backspace
Look left		F2
Look right		F3
Look forward		F1
Look behind		F4
Chase view		F5
Battle view		F6
Tactical view		F7
Missile view		F8
Tail view		F9
Cycle weapons		W
Cycle guns		G
Jump			J
Cycle targets		T
Lock target		L
Damage HUD		D
Autopilot		A
Comms select		C
Nav Map			N
Eject			Ctrl-E

Cheats
Start the game with "wca ERTS" at the command line to enter debug mode.

Alt-Del destroys target. Alt-Insert destroys all enemies. Alt-I increases enemy intelligence. Ctrl-I decreases enemy intelligence.

Start the game with "wca ERTS -k".

Same as above, plus invincibility.

Start the game with "wca ERTS -z".

Same as above, plus invincibility, except for collisions.
Note that "ERTS" must be in ALL CAPS for the cheat to work.
Cutscenes
Ships
Terran Confederation
Empire of Kilrah
Missions
Weapons
Guns
Missiles
Subcategories
This category has the following 3 subcategories, out of 3 total.
Pages in category "Wing Commander: Academy"
The following 2 pages are in this category, out of 2 total.