Long Live the Confederation!
Surprising news today: despite previous claims that they would never revisit the film on home video, FOX now plans to re-release the 1999 Wing Commander film DVD. The release is set for November 1st, just one week after VEI's
Wing Commander Academy
set. We do not have details of the contents yet, but are already excited by the fact that the new release does have completely new cover art (pictured below.) We will update you as information becomes available; it seems unlikely that a modern DVD would still include the 2000 version's non-anamorphic transfer. Pre-orders are currently available through
Amazon Canada
and
FOX Connect
.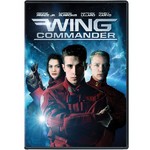 ​
--
Original update published on September 17, 2011
Last edited by a moderator: