Long Live the Confederation!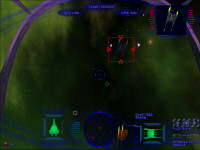 Sometimes spam filters are more trouble than they're worth - here's an update that should have been posted in time for the birthday.
Pedro
has come up with an HCl-style technical patch for Wing Commander Prophecy and Secret Ops aiming at improving the graphics even further! Read on:
This patch is infact an additional optional graphics library, compatible with both Prophecy and Secret Ops, and will be included in the release of Standoff episode 4. In principle it is designed solely to remove problems experienced when using Direct3D such as 32bit support for ATI cards, and removal of texture glitches, most notable on things such as lens flares. Full transparency is supported, mimicking 3DFX. Some other mild improvements are also available, including the option to scale backgrounds and FMV to fill the screen.

This is a test release, designed to get as much feedback as possible, there are however some known issues which means you should use your personal judgement deciding if you wish to use this initial release:

The DVD and multiplayer patch is not currently supported
Dynamic lights need to be refined

Thanks goto HCl and PopsiclePete for their documentation of the graphics interface, Quarto, Eder and PopsiclePete for testing, PopsiclePete for config utility and setup.
You can download it
here
. Also check out this
video
(19 meg AVI), which demonstrates the improved graphics in action.
--
Original update published on August 12, 2007
Last edited by a moderator: