World Wrestling Entertainment, whose offering includes Friday Night SmackDown! and WWE RAW, has recruited Freddie Prinze Jr. into their creative team. The 32-year-old former teen heartthrob starred in Hollywood blockbusters like Scooby-Doo and I Know What You Did Last Summer, but is perhaps best known for his portrayal of a young Christopher Blair in the 1999 feature film Wing Commander. While it doesn't sound like Prinze will be doing any (simulated) fighting, his experience wrestling giant cats probably looked good on his resume in this particular case.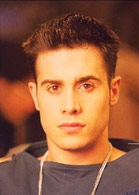 NEW YORK, July 31, 2008 /PRNewswire via COMTEX/ --
Freddie Prinze, Jr., a long-time fan of World Wrestling Entertainment(R), has joined WWE(R)'s creative team. Prinze, Jr. will now have a behind-the-scenes role contributing to USA Network's ratings powerhouse, WWE Monday Night RAW, as well as WWE's weekly television and pay-per-view programs.

"Bringing on board an experienced Hollywood writer, actor and producer like Freddie Prinze, Jr. will only increase the level of entertainment to millions of viewers and passionate WWE fans every Monday on USA," said Chris McCumber, Executive Vice President Marketing Digital & Brand Strategy, USA Network."

"Freddie Prinze, Jr.'s passion, energy and creativity make him an excellent fit for WWE," said WWE Chairman Vince McMahon.
--
Original update published on August 7, 2008
Last edited: