Long Live the Confederation!
In proving that truth is indeed stranger than fiction, alert reader
Arvin "Trencher" Bautista
(of
Trencher-Alb's Movie & PC Gaming Universe
) found a picture of a Rapier in a collection of 'secret' Phantom Menace pictures at
Marks Place
. Apparently the Rapiers are in a hangar somewhere in England... and they're easily confused for something from Star Wars.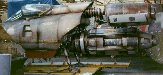 ​
--
Original update published on January 23, 1999
Last edited by a moderator: