Heatwave Interactive, an Austin-based developer founded by and employing a number of former Origin employees, is offering a new project via Kickstarter. It's called Minis with Enemies and it aims to turn miniature combat games (like Warhammer or Mechwarrior) into a fast, fun video game in much the same way Words with Friends digitized Scrabble. They're looking for $300,000, which is a heady goal... but it sounds like a pretty neat project! You can learn more and back the project here. Their plan to let the community help test the game is also very interesting.
The development team includes multiple Wing Commander veterans. CEO Anthony Castoro ran Quality Assurance on Wing Commander IV and Privateer 2 and Community Manager/Designer Chris "Binky" Launius was a tester for Privateer 2. You may remember his quoted hints about the game in Origin's Official Guide to Privateer 2. More recently he has been heavily involved in preserving Origin's legacy, shipping documentation to the Origin Museum and even sending us sketches from WC4 to post.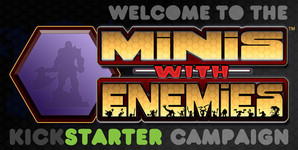 Here is the Minis with Enemies press release:
Starting today, crowd funding site, Kickstarter.com, will feature a new game project that is looking to secure more than just investors. Minis with Enemies, a digital tabletop game from Heatwave Interactive, is focused on building a strong community of dedicated core gamers to help design and fund the world's first truly authentic miniatures gaming experience for PC, tablet, and mobile platforms.

"The Minis with Enemies team has years of experience working for some of the world's biggest publishers on the world's biggest games and we're sick of the politics involved in the typical design process, which often results in games that totally miss the mark," said Chris "Binky" Launius, Minis with Enemies Community Manager and Game Designer. "By going directly to the players for creative input as well as funding, we can build an experience that will appeal to the audience immediately rather than trying to modify things after the game is live."

According to Launius, the "community designers" will have a say in almost every aspect of the game--from art direction to major gameplay strategies and tactics. While preliminary playtesting is already underway in Heatwave's Austin studio, once funding is reached, the "community designers" will quickly focus on nailing down specifics like core game mechanics, minis character attributes, and art style.

The Minis with Enemies Kickstarter campaign, which will run through July 10th, is attempting to raise $300,000 to build the game. Along with gaining membership to the Minis with Enemies "community design" team, pledge rewards range from game downloads and blister packs to having an in-game miniature based on a backer's image and associate content design credit. Interested backers can find out more at http://www.kickstarter.com/projects/heatwave/minis-with-enemies-taking-tabletop-mini-gaming-dig-0 or http://www.miniswithenemies.com

"We love tabletop gaming and consider it more of a lifestyle than just a casual form of entertainment," said Todd Bailey, Lead Designer and creator of the Minis with Enemies concept. "Player input and insight early on is extremely powerful when creating something this important. We have one chance to get this right and need this community to help make it happen."

About Minis with Enemies
Minis with Enemies brings the creativity, adventure, camaraderie and competition of tabletop miniature gaming to life on PC, Tablet and Mobile devices. For the first time, players will be able to experience authentic miniature gaming anytime and anywhere with friends and enemies around the world. Like popular board games that have moved to social and mobile platforms, Minis with Enemies allows multiple games to be played with multiple friends (or enemies) simultaneously. However, Minis with Enemies targets a core gamer, and provides features these serious players would expect, including a dungeon editor and miniature painting tool. The game allows players to collect, trade and paint hundreds of highly detailed minis, and build the ultimate army to command into the depths of the deepest, darkest dungeons while battling through adventure maps to earn coins, items, and uncover new minis.

Features:


Turn-based Gaming: Asynchronous, turn-based gameplay allows players to play at their own pace. Only active players need to be logged in to take their turn, at which time, they will be able to watch the moves and actions from previous rounds to help formulate a unified combat strategy.
PVP Battles: Up to four Players battle head-to-head in an effort to complete the adventure map objective first. In addition to earning gold, items and minis…players earn bragging rights.
Cooperative Play: Allows players to play alongside up to three other competitors in adventure maps against the computer AI or Game Master.
Collectable Rewards: By defeating the adventure map objective, players win items, minis, and gold. Gold can be used to buy new minis, usable items, Adventure Editor pieces and creatures as well as user generated adventure maps.
Custom Content: Players can build their own adventure maps using room templates and fill them with creatures and diabolical traps.
Chat System: In-game chat allows easy communication with friends and enemies in the adventure map to formulate strategies or taunt the Game Master.
Mini Painter: A painting utility to paint and repaint minis in a 3D space using a wide variety of paints, washes, decals and "brush stroke" painting for an extraordinary level of color detail and customization.
Minis Bazaar: A marketplace to sell or buy minis, adventure maps, set decorations, tile sets, and other items using in-game gold and cold hard cash.