The Wing Commander Movie will be airing on Le Nouvel Observateur in France over the next few days. Specifically, it will be carried on the Canal+ Family channel. There are five fantastic showtimes scheduled for the remainder of the month: May 17 @ 20:50, May 18 @ 13:15, May 22 @ 10:00, May 23 @ 13:15 and May 26 @ 22:30. The film has seen increased play time in France since the French version was released on DVD last year.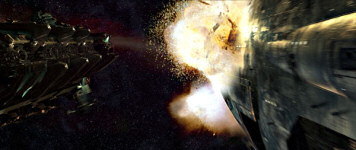 Here's the fancy French summary again:
Le sujet En 2654, un vaillant pilote intègre une force d'intervention spatiale qui s'oppose à une monstrueuse invasion perpétrée par des extraterrestres belliqueux.

Au XXVIIe siècle, la Terre entre en guerre contre le puissant empire Kilrathi, qui ambitionne de l'annexer et de la soumettre, comme le reste de l'univers. A l'issue d'une attaque-surprise, les créatures de Kilrathi, au physique proche de celui des humains, prennent le contrôle du système central de navigation. Les envahisseurs disposent désormais de voies d'accès directes à la planète bleue. Plus rien ni personne ne semble pouvoir freiner leur progression. Personne, sauf peut-être le lieutenant Christopher Blair et ses deux compagnons, le pilote Maniac et l'aventurier Paladin. Sous les ordres de leur «Wing Commander», la superbe Devereaux, il partent à l'assaut de l'empire Kilrathi...