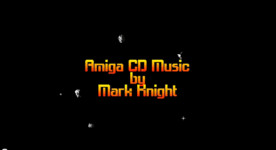 After seeing the mp3 clips posted above, Mark Knight stopped in to share something even more amazing. Mark was the musician who worked the music and sound effects for the Amiga version of Wing Commander, and he's posted the original source .mod files online! Many media players will read the format, although it's possible that some could mess with the timing. The Oldsk00l plugin for Winamp is recommended - these tracks sound absolutely beautiful with it! Grab them here (2 meg zip).
I'm Mark, the guy who did the arrangements for Wing Commander on the Amiga/CD32 back in 1992. It was actually my first fully paid game job when I was 19, so is very close to my heart. Glad to hear the positive comments about it. It was no mean feat getting that into the 4 channel Amiga, and with huge memory restrictions.

I've uploaded the original .mod files to my website, so you can all download from there. The file is under 2 meg, and they'll play in any of the tracker players/plugins (I think) although Oldsk00l for Winamp is recommended.