Super Soaker Collector / Administrator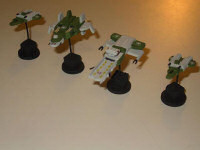 Jay wanted to let everyone know about two Wing Commander packs available for
Starmada
using the
Victory By Any Means
pen & paper role playing system. It looks kind of complicated to me, but people familiar with the game can use these ready-made Excel sheets to play their own Wing Commander themed variants. The general mod pack is available
here
. The
second pack
is a larger file with much more detailed spreadsheets for fighter combat. Last year
CmdrPanda
made some impressive miniatures
to use as well.
Starmada is a simple (but not simplistic) board game of starship combat, in which players square off in a general attempt to blast each other's fleets into just so much space junk.

While the universe of the Imperial Starmada and its major adversaries is fully detailed in the rulebook, Starmada is much more than just another game, tied down to its own background. Instead, Starmada can be played in just about any science fiction setting you can imagine. There are dozens of optional rules, exotic special equipment items, and menacing weapons that can be used or discarded at your discretion, to create the type of game you want to play!

-----

I came across some WC material for the second war era. Players have been using it in the VBAM game system, and I thought I would pass it along to the community. Tyrel Lohr is the author of the material. I don't know if it is perfect, but it is fun.
--
Original update published on February 13, 2006
Last edited by a moderator: