Super Soaker Collector / Administrator
One of the most elaborate packages in the Wing Commander series is the Premiere Edition of Wing Commander 3. In addition to the regular items that everyone got, it included a color version of
Warbirds
, a soundtrack CD, a 'Behind the Screens' CD with cool interviews & features, a t-shirt, a 1995 calendar, a
VHS 'making of' tape
, a folded poster and a copy of the Fleet Action novel in a film reel enclosure. There was a variant available at Sam's Club, but the primary way for fans to acquire this collector's item was to directly call and order from Electronic Arts - since this was years before online orders were a thing! Joe Garrity scanned in his receipt from 1994 so you can see the slip in all its dot matrix glory.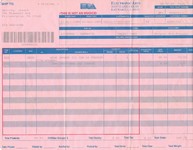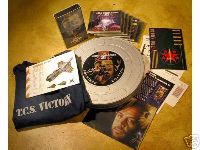 The
Big Box PC Game Collectors
have put together a retrospective and unboxing video that further details what came in the tin. Adjusting for
inflation
, the $100 price tag in 1994 comes out to $162 in today's dollars. Not bad for what you got!
Thanks to Rear Admiral Tarsus for the tip.
--
Original update published on August 21, 2016
Last edited by a moderator: