Super Soaker Collector / Administrator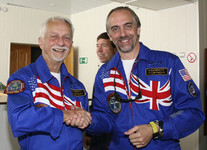 We've got some sad news to report today. Noted astronaut Owen Garriott passed away on Monday at age 88. Mr. Garriott was one of the early pioneers of long-duration space travel with a 60-day stint aboard Skylab in 1973. He also flew on the Space Shuttle Columbia in 1983. Early on in his career, he served in the US Navy before going on to teach physics at Stanford and hold a variety of positions at NASA.
The elder Garriott also served as one half of the first American father-son astronaut duo when Richard Garriott
went to the International Space Station
in 2008. And while we often refer to Richard as "Origin founder" in our news stories, Origin Systems was actually co-founded by Richard and Robert along with their father, Owen, and programmer Chuck Bueche. In various
interviews
, Richard credits being sent to a programming camp that Owen picked out as a major influence that set him on the path towards game development. In addition to this connection to the Wing Commander series, in a broader sense, we all continue to benefit from the advances in spaceflight, technology and engineering that he advocated for over many years. We're all better off thanks to you, sir.
--
Original update published on April 17, 2019