Super Soaker Collector / Administrator
Artist
Alan Gutierrez
has posted another one of his fabulous Wing Commander scenes commissioned for the Wing Commander
Customizable Card Game
. It was mirrored and used as the art for the Magnum Launch card. It's hard to tell if this was just due to image processing, but there are possibly some very slight differences between the two scenes: the ceiling structure is more pronounced in the recent posting while the light reflections on the deck appear slightly more distinct on the card. Mr. Gutierrez notes that this scene was likely the inspiration for a similar fighter launch scene he did a few years later for Steve Jackson Games titled
X Wing Fighter Scramble
. You can find links to some of his other Wing Commander items below and plenty of other nifty sci-fi scenes
here
.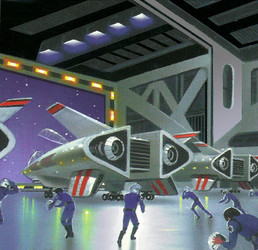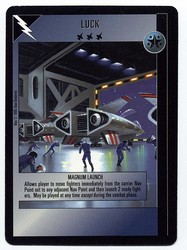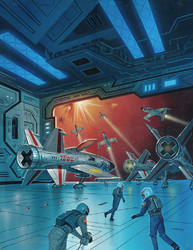 From the card game "Wing Commander" commissioned and published by Tracy Hickman & Margaret Weis, 1995

A "Luck" card, it was the launching of the "Arrow" fighter, and used again for "X Wing Fighter Scramble"

Edit: This may have came before the "X Wing" art (presumably). But since I'm not sure when that commission happened, It could be Magnum Launch as the original...
--
Original update published on October 1, 2019