Good News For PS3 Fans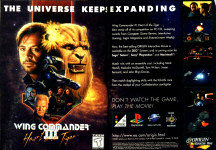 One of the biggest selling points for Sony's new PlayStation 3 console is its backwards compatibility with PlayStation and PS2 consoles, however the feature has some big problems. Audio distortions and freezing hangs are affecting both PS and PS2 titles. Approximately 200 games are known to have issues at this time. To help players determine if their games will work on the PS3, Sony has created an online database to organize and communicate compatibility problems.

A search for PlayStation versions of Wing Commander III, Wing Commander IV and Crusader: No Remorse display a message indicating that there are no major problems with playing these games. For the time being at least, it appears to be good news for Wing Commander fans. If anyone has a PlayStation 3 and experiences anything unusual, please let us know. You can check the status of these games and all other titles at Sony's compatibility database.