When we mentioned a couple of weeks ago that Overmortal had been able to add ships in to the X-Plane Space Combat game, it was only a matter of time before someone made a WC ship for the game. Well, Aradayn is that person, and he made this model of a Galaxy.
I noticed your mention of 'Space Combat' on the news site and I thought I'd share the Wing Commander ship I made for that game - a model of the Galaxy class merchant ship from Wing Commander- Privateer.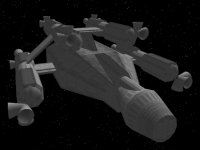 You can download the file for use in the game here.