Peony is doing a fan art promotion where people can commission fun little character sketches. The money will go towards bail bond funds associated with recent protests. One of her first drawings is a super charming Captain Eisen! It's a warm and confident take on the captain, and the framing does a good job of capturing the iconic WC3 style uniform too. If you're interesting in supporting the effort (and potentially generating some more WC goodness!) visit her Ko-fi page.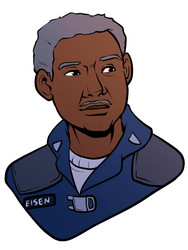 Headshot Commission - CHARITY FANART

CHARITY COMMISSION - all proceeds from these commissions will go towards BLM related bail bond funds/charities. **For simplicity, please leave these commissions to generic fanart or character requests as opposed to original characters.**

Lineart - $10, Colored - $15

For more information of where these donations will be going and if you'd like to contribute more, see the following link. Thank you for supporting a great cause!!