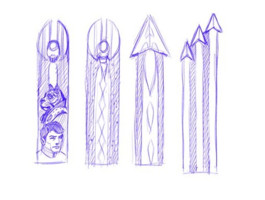 It's the final stretch for Andrea Contato's second book on the history of Origin, Through the Moongate, from Wing Commander and Ultima VII to Portalarium. The project is nearing its €40,000 stretch goal, which adds an appendix full of personal interviews and anecdotes. Jumping into the €50 (plus ~€25 for tracked shipping to North America) hardcover tier will also be the only way to get Denis Loubet's cool Wing Commander bookmark, so factor that into whether you would like to consider funding the book. It might be the most expensive piece of paper you buy this week, but that just makes it taste better.
1) We lowered shipping cost from Part 1 for many countries. Canada and the US benefited the most from this as we managed to lower the shipping cost by 25-45%. With the introduction of Love tier (i.e. untracked shipping), we have hit rock bottom for shipping prices without subsidizing shipping out of pocket.

2) The next closest stretch goal will add a "last words" section to every type of book (i.e. ebook, softcover, and hardcover). This is an important goal as it gives a voice to so many important members of the community. It's so tantalizingly close, we are 100% sure we cat get it, but only with your help!

3) The softcover and ebook versions were upgraded with photos and will have the pictures they were missing in Part 1.

4) Part 2 has a lot of interesting facts about the eventful period from the launch of Wing Commander, the acquisition of Origin by EA, and its demise. The author, with the help of many Originites, dug deeply into how Origin Systems, Inc. changed after the stellar success of WC. You won't want to miss this!

5) Denis Loubet's bookmark and Manda's artwork printed on cloth won't be available after this Kickstarter. Only enough for the backers will be made. This is your very last chance to get them while you still can!