The Turkish VHS has been added to our international cavalcade of Wing Commander home video releases!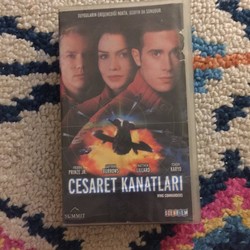 Turkey also got the film on VCD!
It's always great to come across odd localizations of the Wing Commander film that we missed in the past. On display today we present 'Cesaret Kanatları', as the film is known in Turkey. Roughly this title translates to "Wings of Courage," which I think has a nice ring to it! The Turkish distributor of the Wing Commander movie was Ozen Film, which also distributed the Chris Roberts produced Outlander in that country.