Amazon Adds HD Wing Commander
It looks like iTunes isn't the only way to stream high definition Wing Commander anymore. The Amazon Instant Video page for Wing Commander now advertises, "also available in HD with Amazon Instant Video on Your TV." There is a new page dedicated to a variety of set-top boxes, TVs and Blu-ray players that support the service, and there are even ways to play via your XBox or PC. Try it out and let us know how it works for you!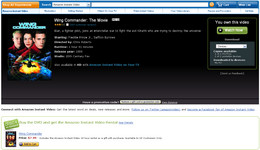 Blair, a fighter pilot, joins an interstellar war to fight the evil Kilrathi who are trying to destroy the universe.