CIC Finance Trading In France
Remembering our announcement of CIC Finance on April 1 last year, Major Striker was shocked to find this ATM during a trip to Paris.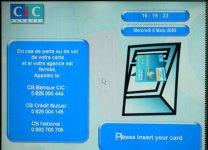 We're not sure if CIC Finance can co-exist with "CIC Banques" or if we'll have to take on the legal might of a French bank, but we have been investigating new industries to break in to for some time. Expect a new announcement soon!