SBG Wing Commander Cover Scanned
Cyberion has scanned the cover of an older Russian SBG magazine. This one's from April 1996. It doesn't seem like the magazine is still around anymore, but Wing Commander 4 was their cover story at one time. The article contained a review of the game and some historical data on the Wing Commander series. Cyberion is working on getting the actual article next.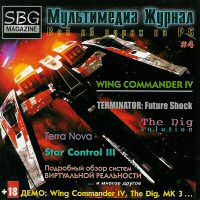 These are always like pretty neat time capsules. Wing Commander 4 still seems like a new game to me, but the rest of the titles mentioned on the cover are ancient.