Zeether and WalterK came by #Wingnut to tell us about a couple of websites they came across. There has been considerable excitement and discussion on the Freelancer fansite The-Starport.net and on Reddit regarding Roberts Space Industries and Cloud Imperium Games, and frankly we're intrigued!
Both websites seem linked to Chris Roberts' newest business endeavor. Chris Roberts' public linkedin profile now lists his current position as "Chairman & Chief Creative Officer at Cloud Imperium" having apparently moved on from Bl!ink Media Inc.
If there is any doubt that the Cloud Imperium Games website is connected to the Cloud Imperium Chris mentions on his linkedin profile, note that the domain name was registered by Freyermuth and Associates Inc. Ortwin Freyermuth was a lawyer/producer hired by Mr. Roberts to work as legal advisor on several of Ascendant Pictures's films. In 2007 he was listed as being on staff at Ascendant as "production counsel".
While we're certainly excited, we're not entirely surprised fans have dug up some pretty cool breadcrumbs. Back at the CIC birthday bash in August, Chris Roberts stopped by to surprise everyone in #wingnut and answered fan questions for over two hours. EddieB asked what his next project would be. Chris Robert's response?:
Chris_Roberts:eddieb - I've got something I'm going to announce soon - and in about three weeks I'll give you guys an early heads up
So what exactly is Chris Roberts working on? Much of the evening's discussion did revolve around what he would do if he were to ever make a new Wing Commander game with today's technology. The Roberts Space Industries site hints that we may just have a bit of a better idea what this special project is come Monday morning. The website is running a countdown timer that runs out at midnight Pacific Standard Time Sunday night. Is it a new space combat simulator? Is it a follow-up to Privateer or Freelancer, or a spiritual successor? Is it something else altogether?
Moving on over to the Cloud Imperium Games website we note that there's a nifty spaceship banner at the top of the page which would certainly indicate that whatever it is is likely space related just as the name "Roberts Space Industries" promises... though, I guess, for all we know it could be the social version of "Spaceship Parts Factory Tycoon" set in the dusty Texas back-country of the near-future.
But wait! There's another clue! WalterK pointed out that following the URL to full image of the Cloud Imperium website banner reveals the following beautiful piece of concept art which doesn't just mildly suggest a Privateer/Freelances style game!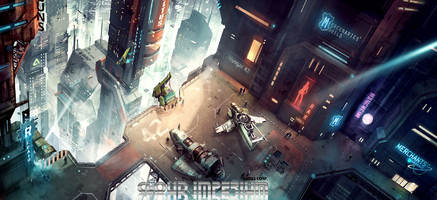 Check back often - we'll be looking through this with a fine-toothed comb!