The Art of Wing Commander Arena - Part Eight
One early concept for Wing Commander Arena called for the game to use ships from Wing Commander III and IV! Basic sketches of three 'redesigned' classic ships exist... and today we're showing you the Excalibur: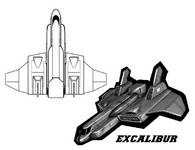 This is part of a series of beautiful Wing Commander Arena concept images graciously provided by Gaia Industries. You can find the original article here. You can thank the guys at Gaia by picking up Street Trace NYC on Xbox Live Arcade!