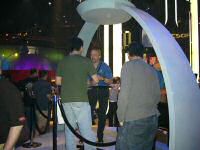 The Academy of the Interactive Arts & Sciences has announced that Origin founder Richard Garriott is this year's addition to their prestigious Hall of Fame. The AIAS is an association that consists of Sony, Nintendo, Microsoft, Electronic Arts, Ubisoft and other major game companies. Though typically not involved in the Wing Commander productions, Garriott was a member of the team that designed the Wing Commander card game. His current projects include the City of Heroes expansion and Tabula Rasa. You can find more details at GameSpot.
Richard "Lord British" Garriott, creator of the famed Ultima series of role-playing games and founder of gone-but-not-forgotten developer Origin Systems, is being inducted into the Academy of Interactive Arts and Sciences (AIAS) Hall of Fame.

Mario creator Shigeru Miyamoto was the original AIAS Hall of Fame inductee in 1998, and has since been joined by Civilization developer Sid Meier, Final Fantasy creator Hironobu Sakaguchi, Doom designer John Carmack, Sim-everything creator Will Wright, Sega luminary Yu Suzuki, ambitious Lionhead founder Peter Molyneux, and Electronic Arts founder Trip Hawkins.