Finder of things, Doer of stuff
You will probably recognize this poster since we've featured it several times before. The below image is the funky Korean poster that features ships that seem to have nothing to do with the film itself.
​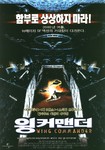 ​
​
Well, I recently came across a smaller A4 sized version of this same Korean Movie Poster but the kicker was that it turned out to be double-sided, which is apparently pretty common in asia. So here's the never before seen flipside of that poster!:
​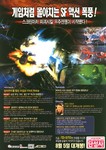 ​
​
Of interest on side A is that while it looks like the same as poster seen before this version actually adds a now defunct URL (
http://www.woosingcine.com/wing/default.htm
) near the credit block! You can take a look at what is left of that website on the internet archives
here
. Here's (
https://www.wcnews.com/news/update/11696
) the extracted Korean text for which we would be grateful for a proper translation of since the Google Translate version is a little hard to understand. Essentially it's a brief synopsis followed by some info about the cast and crew.
--
Original update published on June 23, 2012
Last edited by a moderator: