Long Live the Confederation!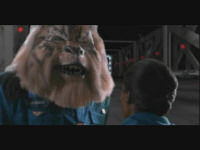 Humor website
Something Awful
has listed "Hobbes is a Traitor" as one of the "22 Worst Moments in Sci Fi History" (
article
). They say:
There are hundreds of terrible science fiction video games, but to make it onto this list it takes an epic saga like Wing Commander and an epic mistake like Kilrathi defector Hobbes going traitor in Wing Commander III: Heart of the Tiger.

The lovable fur-suiter from Kilrah appeared in prior Wing Commander games and his defection to the Confederacy was a source of much drama during the story portions. Many of the human pilots hated him and assumed he was a traitor. Even in Wing Commander III you were given the option of becoming one of the few voices sticking up for Hobbes while everyone else warns that he's an untrustworthy monster.

Then Hobbes transmits the plans for the human's war-ending bomb to the Kilrathi, kills a human pilot, and escapes. Some fans of the series claim double-traitor Hobbes did what he did because of his conscience, but all signs in the game point towards a totally retarded sleeper agent plot. He was evil all along.

The moral of the story is...distrust outsiders and never stick up for the weird guy everybody hates. Was the "Hobbes is a traitor" plot a genius double fake-out? Was Chris Roberts an overrated doofus when it comes to stories?

I think Chris Roberts answered those questions with his Wing Commander movie.
I don't think fans of the series claim Hobbes defected because of his conscience - we've seen his
holo-message
on the subject. It's also worth pointing out that Chris Roberts didn't write Wing Commander III - he was the producer and director of the film shoot. Thanks to all who submitted this!
--
Original update published on October 5, 2007
Last edited by a moderator: