Super Soaker Collector / Administrator
HCl
reports that he's making great progress on video extraction methods for the Playstation version of WC3/4. This is neat, because the PSX Wing Commander games included higher quality video than the DOS originals. This is particularly exciting with Wing Commander 3, which did not receive a special upgraded version on DVD. WC3 PSX also has full-color comm VDU videos, and HCl has already successfully extracted and viewed these clips.

​
The comm transmissions were lower resolution on the Playstation, but are colorized instead of green-tinted. Here's a size (and color) comparison with the PC version. Playstation is on the left, PC on the right.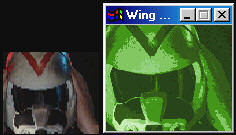 ​
Support for Playstation WC movies should be added to HCl's amazing movie player soon. The player and other exciting tools are available at HCl's Wing Commander
Editing Site
.
--
Original update published on December 15, 2007
Last edited by a moderator: