Super Soaker Collector / Administrator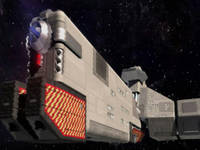 Our new poll asks which destroyer in the Confederation fleet was your personal favorite. Is it the ancient Confed Valiant class? Or maybe it's the Paradigm, one of the Confederation's most advanced destroyers. These workhorses held the line against thousands of opposing warships during the various wars, and many proud Confed destroyers were sacrificed over the years to protect valuable carriers and colonies.
Last time we tried to find out which game fans thought were most technically impressive when they were released. Wing Commander 3 took the cake with a strong lead. Each and every Wing Commander game pioneered exciting new technologies and features, so we know it was a difficult choice. Armada came in last, but its incredible
multiplayer modes
were way ahead of their time.

Which game was most technologically impressive at release?
Wing Commander 1: 16.05%
Wing Commander 2: 5.67%
Wing Commander 3: 44.45%
Wing Commander 4: 11.99%
Prophecy: 11.81%
Armada: 1.49%
Privateer: 8.53%
Total Votes: 1676
--
Original update published on February 26, 2006
Last edited by a moderator: