Better Health Through Less Flavor
The other day, I was looking at the
CIC April 1st updates
again and looked enviously at Chris holding a copy of Freedom Flight at Powell's: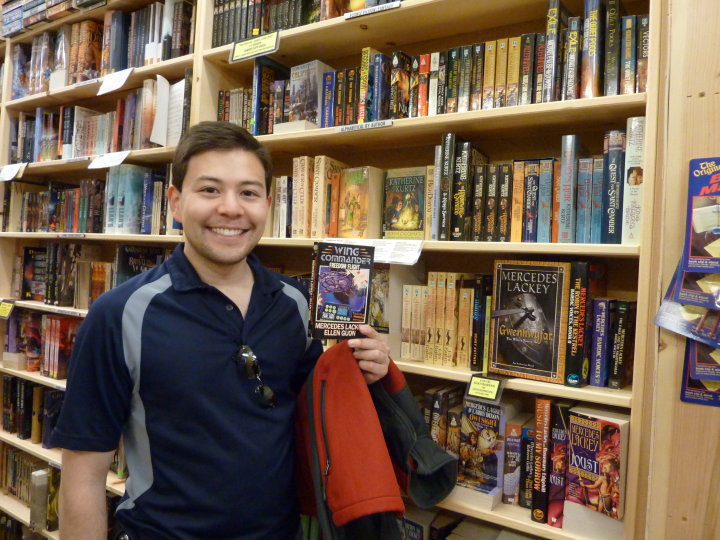 It's been a long time since I've seen a Wing Commander novel in the wild, I thought nostalgically. Certainly not at a major retailer.... Some six years ago, I could still find copies of
The Price of Freedom
at Barnes and Noble or Borders, or even local second-hand bookstores (where I picked up another to replace my old, dog-eared copy pre-ordered in 1996). Nowadays, of course, it's possible to go online and pick up a book on the cheap (I snagged a copy of Action Stations for a single dollar at
Abe Books
!), but that doesn't compare to going up to a real bookstore and seeing them lined-up, side by side with heavy-hitters of days present and past.
... so I thought, as I strolled the aisles of my local communist comic-book store, my hand trailing along the spines of sci-fi paperbacks... and catching on a copy of William Forstchen's Fleet Action!
That was shockingly serendipitous, especially since it's the place where I first picked up Fleet Action, years and years ago, and then, if memory serves, went back and got another copy when that one went missing. Usually, when I went looking for Wing Commander books in the past, the one I'd usually find would be Freedom Flight, like Chris. But with three sightings of Fleet Action (plus another at a second-hand bookstore in Seattle's UW district), that probably ties it with Price of Freedom for the most-commonly seen book that I can recall.
I briefly thought of snatching up this last copy (after all, my own Fleet Action is in terrible shape; the paper cover folding and cracking) but thought no, that wouldn't be right. Let somebody else discover it.
What's other peoples experiences with Wing books recently? What's the last one you've seen at a bookstore? What's the most commonly found one that you can recall?
Last edited by a moderator: